Morganite and More for You Now
Most people have heard of the emerald and the aquamarine. These two of most well-known gemstones have adorned and fascinated us for a long time. In many ways they are the opposite of each other: aquamarines are not often crystal clear, while inclusions are widely accepted in emeralds. Each crystal clear emerald is something of a sensation. However, a chemical study would show that these two gems are basically the same. They are both made of a mineral, called beryl.
Pure beryl, without any impurities, is colorless and is called goshenite. Because small amounts of impurities penetrate into the crystal structure, different colors are created. Beryll contaminated by chromium assumes a green color and is called emerald. Iron impurities give rise to either the yellow color of the heliodor or the blue of the aquamarine.
Invention of Morganite
Beryl can also be colored pink and this pink variant is called Morganite. In 1911, Tiffany & co's acclaimed gemologist George F. Kunz named this pink beryl variety Morganite after a wealthy and famous banker in New York, JP Morgan. The morganite's often subtle, beautiful salmon pink color, it's often equally striking clarity and the fact that, unlike pink sapphire, for example, it often appears in specimens large enough for pendants and bold creations has since made the morganite an appreciated and relatively well-known gemstone.
Brazil is usually mentioned as the classic find location for the Morganite. Undoubtedly, Brazil has for many years produced a large number of finds of morganites with good quality, color and size. Brazil, however, is not the earliest significant bargain. As you choose the Morganite Engagement Rings for your gift, these are the details you need to be sure of.
Places Where Morganite Is Located
Many fine crystals, sometimes of exceptional size and color, are still found in Madagascar. Another traditional Morganite site is located in Pala, San Diego County, California. In Pala, early beautiful morganites were found together with, among other things, kunzit and tourmaline. Maine in the United States has also produced notable specimens such as "The Rose of Maine", a high-profile morganite crystal from Bennet Quarry in Buckfield weighing 23 kilograms.
Several of the most important new Morganite deposits have taken place in Afghanistan and Pakistan. These countries' bedrock hides rich treasures, not only by Morganite but a large number of other gemstones, which also often appear in magnificent crystals.
The largest known facet cut morganite originates in Madagascar and weighs 598.7 carats. The jewel is now located at the British Museum, as a symbol of Madagascar, despite new occurrences in Mozambique, Pakistan, Afghanistan and other places on earth, remains to the Morganite what Burma is to the ruby.
As the Morganite almost always shows perfect clarity, grinding and polishing means practically everything for the beauty of the stone. Even if the stone has an intense color, a poorly executed grinding can almost erase the beauty of the stone. An artistic design and well-executed craftsmanship elevate and transform the morganite into a special and extraordinarily beautiful gemstone.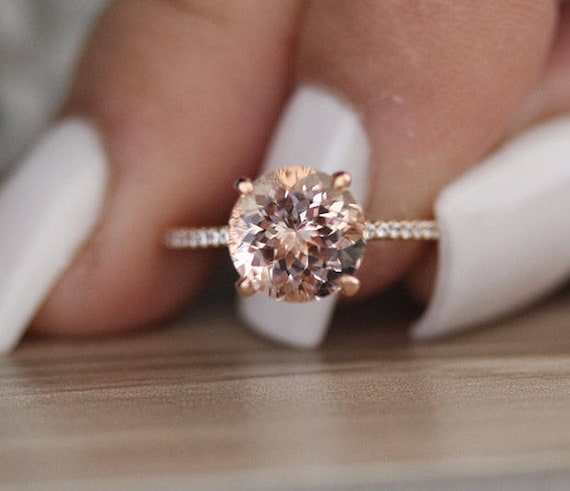 Morganite: underestimated beryl
In a way, it's almost a little unfair that emerald is so much more well-known than what, for example, morganite is. Just like emerald, the other beryls have a high hardness between 7.5 – 8 on the Mohs scale. In other words, they are not easily scratched, but can nevertheless be quite fragile. Some care during assembly and grinding is therefore always taken.
An interesting factor is that emeralds are quite sensitive to heat and can crack. This is not the case with other beryls. Morganite has a fresh pink tone and is well suited for a little more spectacular jewelry. Indeed, there are quite often larger specimens of this gemstone, compared to, for example, the rare pink sapphire. Since it is usually a very clear and clean stone, a good grinding is extremely important, perhaps the most decisive factor for the beauty of the stone. Morganite is now found in Afghanistan, Brazil, Madagascar, Mozambique, Pakistan and the United States. The largest faceted morganite in the world can be seen at the British Museum. It weighs 598.7 carats in all its glory and is found in Madagascar.
Beryls are gems for connoisseurs.
Both pezzotaite and morganite are gemstones that have become more common and popular in recent years. However, there is some uncertainty about the materials and quite often both are assumed to be variants of beryll, sometimes they are even claimed to be the same. The same is sometimes said even about Bixbit or red beryll and pezzotait.
Both morganite and pezzotaite belong to the beryllium group and morganite is exactly like emerald and aquamarine beryl (beryllium aluminum silicate) solid instead of chromium, vanadium or iron is the manganese that causes the color. Pezzotait is a cesium aluminum silicate that gets its color by beryl and / or lithium sometimes replacing aluminum atoms. Bixbit or red beryll, just like morganite, gets its color from manganese but in order for it to turn red; a much larger amount of manganese is required than in morganite. Pink and red pezzotait look a lot like pink and red beryls in terms of appearance, but price and value differ between the materials, especially red beryl can cost significantly more than the corresponding red pezzotaite.
It is good to be aware that a large proportion, perhaps the majority, of all morganite on the market has acquired its color artificially through irradiation and that it rarely appears in connection with sales.
Mineral is always a solid and has the same content throughout.
From minerals crystals are formed and these crystals can be divided into groups depending on which mineral it is formed of. Some of our most common minerals are feldspar about 40% of the earth's crust consists of feldspar and quartz.
Quartz is in turn found in, among other things:
Transparent shape (rock crystal)
Purple (amethyst)
Pink (rose quartz)
White (milk quartz / snow quartz)
Brownish color (smoke quartz)
Amethyst & Rock Crystal
Minerals have the task of balancing the earth's energy flows and electromagnetic fields and minerals in the form of crystals can affect us in the same way. A crystal is a mineral that has been allowed to grow freely under ideal conditions while a stone often contains several minerals that are compressed without any order. A crystal is often a pure mineral where its molecules are instead arranged in a systematic pattern.